Product Reviews:
This is where we have checked out a particular decon product, either at the invitation of the manufacturer/supplier or at a dental practice.We have the benefit of experiencing a good range of products over many years, so this has given us the starting point to judge features that we feel are important to you without too much jargon! Ultimately, as usual, its up to you to choose what is right for you, chamber size, cycle time, cost, service requirements etc. If we can be of further help, we will do our best or if we don't know, we probably know someone that can.
PRESTIGE MEDICAL have also announced some new models that I haven't had feedback or the oportunity to review any so far!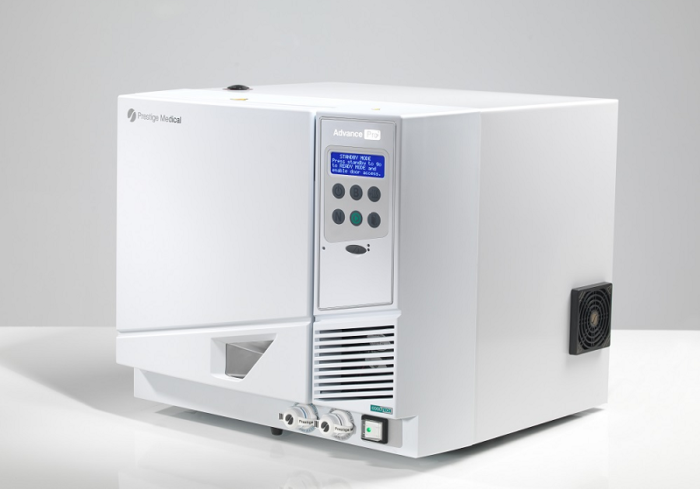 They have some detailed information on their website and pictures of the new models. Just a few bullet-points below that I have copied regarding probably the most poular model; the B cycle ADVANCE PRO. Much more can be read on-line.They claim the cycle times have been improved and it is more user friendly to operate.I trust they have dealt with some of the reliability issues of earlier models and a new British machine in the market is always welcome! It does look as if you need to contact Prestige Medical directly for more information or I spotted the machine on the Dental Directory stand at this years' ExCel. Prices should be competitive and this model also benefits from having an N cycle, siutable if solid non-wrapped, immediate-use instruments are being processed.
Features the unique FlexiRack tray and load management system
New integrated stainless steel waste water tank and a high performance cooling system for faster cycle times
16 and 22 litre chamber capacities available
Multiple water feed and drain options
Clear, backlit LCD display with simple user friendly 6 push button control system
Six cycle stage indicator lights
New easy fit gasket system
Supplied as standard with an integrated data logger and SD memory card