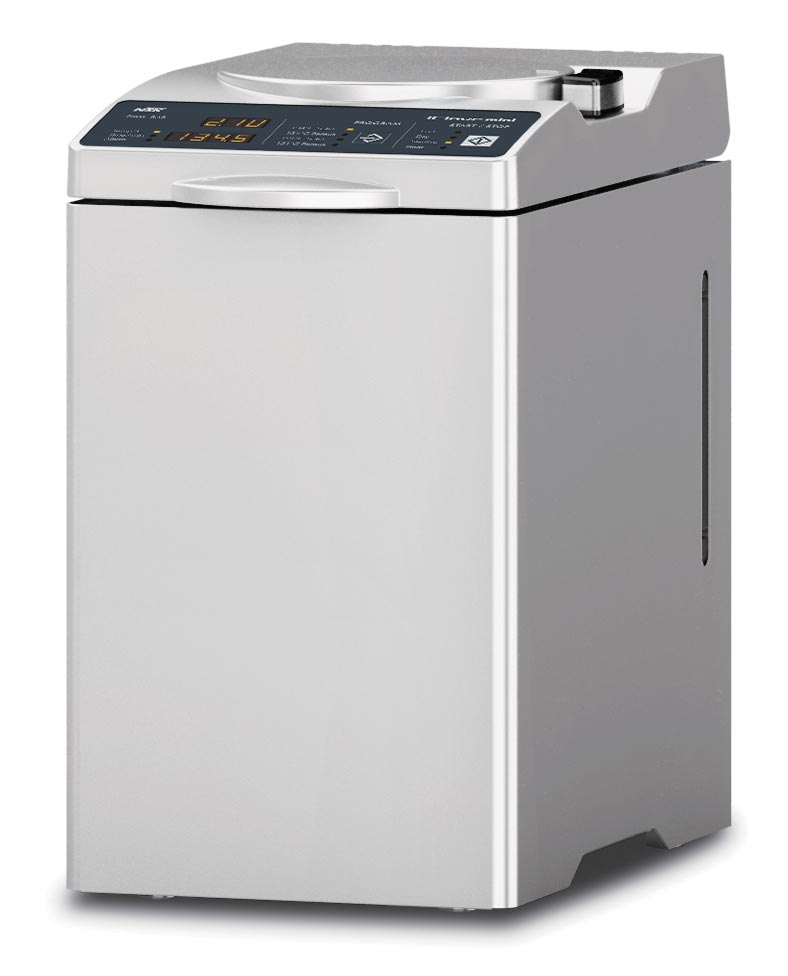 iClave mini handpiece and instrument sterilizer
We have kindly been given exclusive access to check out the all new to the UK, NSK iClave mini. The first task was to take it out of the box but importantly for the dental practice, is which metaphoric "box" does the machine fit into ?
It's an 'S' cycle machine
It has been production tested to sterilize handpieces
It's small but.... they state it will process <12 of handpieces
It's a top loader using wire basket and holder!
The iClave mini was presented to me in a splendid travel case and it was immediately apparent that I could lift it comfortably from case to bench, without breaking into a sweat or my eyes popping out on stalks with the usual over-excursion required when shifting "transportable" sterilizers. This machine really is transportable in every sense of the word. A real lightweight at only 15.5 kg, just requires a 13amp socket, within a meter, a jug of distilled water, of course, read and digest the User Manual..... and off you go.
What is the iClave mini? Many years of being mesmerised by staring at sterilizers, I always feel the need to give a new product some degree of comparison with other current machines or those that have fallen by the way-side. I started by thinking It's a bit like the happily defunct Zenith, fantastic concept, just when we needed it, but.......! I suppose it shares features of the Eschmann SHS 800, tray front loading machine? Even the Statim 2000S front loading cassette bears some comparison? Perhaps the much discussed and hotly debated DAC Universal combination unit? No, it's none of them. So should we judge it on being a new concept or simply a development of an old idea? I think the latter, but that's just me?
NSK say it is the smallest and lightest machine they have developed, size and weight offers all sorts of interesting siting and logistic possibilities. Its transport-abilty will lend itself to perhaps a 'return for service' option, as is or was promoted with the Statim machine, but its minimal service requirements should keep running costs very low, together with the NSK burgeoning network of technicians, a home call in situ visit, I feel, is often best. It's such a simple job to move it from room to room, perhaps as an emergency back up machine or just as a support machine to clear a back log of instruments being processed in the usual smooth flow. The small overall dimensions, low power consumption and of course, low weight, means it can be sited anywhere it is safe to do so. Hygienists come to mind also, with their steady flow and dedicated sets of instruments?
The iClave mini is an S cycle machine complying with BSEN13060 and at this point I could labour on for hours or even days, on the S versus B debate for hollow instruments, but I am not going to on this page! There are plenty of S cycle machines in use that have been developed specifically to process handpieces and this one is no exception. NSK claim it has been fully tested for this purpose using a system of repeatedly de-aerating the internals. No trapped air,steam can penetrate ....sterilization assured. Utilising the same ideas and components where possible, as the bigger-sisters in the NSK range, reliability should be a given. Sharing with the same clever adaptive heat technology in keep cycle times and temperature control in check and they say this is kinder to instruments.
So how about the mini-chamber size and is it really that useful? It's certainly bigger than my first impression. 2.5 litres is not that much smaller than some 'conventional' units I have seen. NSK claim it will take 12 of their handpieces, that will slot inside the basket and still be within the stated load maximum. Pouching them, and the number drops to a still useful 6 , but the time required for the whole cycle then increases proportionally.
Open the lid, fill the reservoir with distilled water, checking the level on the simple site-gauge, close the lid, with its safety interlocked lever and select the 134C solid cycle. Touch the start button and the first of many cycles I tested comes to play. Initially and somewhat surprisingly for a displacement process, is the noise level is pretty acceptable, even quiet. There is mention in the bumf of a 4 minutes cycle but its soon apparent that this is a very European idea in from 'marketing', of forgetting to include this and that and when included this will bump the time up to a still respectable average of circa <10 minutes.....and that's including 2 minutes of drying. As with all displacement machines, even though the iClave has a chamber pre-heater and dryer, steam has to be discharged at sometime and somewhere from the machine at cycle end. Most is cleverly caught in the chamber with a built in fan to assist, but it is fair to say a puff for a few seconds emanates from the rear discharge point. This steam by nature, gurgles and causes a degree of a somewhat familiar noise, before 6 beeps tells you its finished and ready to unload. A clever handle supplied to lift the still hot load from the chamber and it is pretty clear from initial inspection, both the load and the chamber are dry, save for a couple of droplets at the base of the chamber that would have flashed off, had I been not so keen to open the lid immediately. Although I also ran the 134 porous cycle, I did not have the opportunity to pouch the 6 instruments the manufacturers claim to be able to process and dry, however I doubt very much if the result of a nicely dried load, would be any different. Whilst discussing the actual cycle speed, the mass of the machine needs firstly to be heated up, the cycle time then speeds up from the initial cycle to average around 9-10 minutes for a solid load. For the porous load it stabilises at <28 minutes mainly due to additional penetration and drying time requirement for pouches.
Usability, is a dream. Four programs, two of which are 121C, mainly I feel, for the other bit of Europe, so that adds up to just two ;134C solid and 134C porous. I guess for most purchasing circumstances there will be just one though ; 134C solid. If this is selected, by scrolling to the top, it will stay as the 'default' being the last cycle selected. Touch the start button and that's it. The screen has a pretty comprehensive array of alarm, error and user codes that alerts for low water, door not shut, untoward operator intervention, etc. etc. The display also shows temperature , pressure and time remaining. According to NSK draining water can be each week unless of course, your own written protocol says daily. To me, it does not have a separate used water reservoir, so I would be happier with daily and its simple to do, by removing a bung on the drain tube and drain into a suitable receptacle or sink.To keep the load sterile, a bacteriological filter is incorporated and to stop any ingress of debris into components, a chamber filter is used to do the job. There is a conventional 'V' ring , albeit small diameter door seal, straightforward to change and is all part of a 'service kit' that accompanies each machine. The User Manual states 6-months for replacement of these components with main service inspection coming annually or as per statutory requirements.
The iClave mini is European built and I was informed, it was originally made to satisfy the Japanese market, where it has sold in large quantities. Numbers in the field, together with the NSK philosophy of testing and then testing some more, should make for a very reliable product, whether you just have it as a reassuring back-up or include it in the busy every-day protocol. Talking of protocols, it can be validated and has a USB reader to save cycles using a simple TXT file.
The iClave mini looks good in a shiny white casing that can be easily wiped down. Accessibility for the service technician, is by removing the whole case when all the components are revealed to inspect, replace or repair if necessary. It does very much, have a 'retro' feel about it, but with the benefit of modern components and quality factory production methods, it should be a big hit.....if the surgery can find a small space or 'box' to put it in
Specification at a glance. NSK iClave mini S cycle sterilizer
Will it fit................................................probably will. W210mm x D320mm x H360mm
What does it weigh.............................15.5kgs
What is the chamber capacity...........2.5litres 130dia. x 200mm depth
What is the average cycle time..........9-10minutes
How long is the warranty...................2 years unlimited cycles
How often does it need servicing.......6 months service kit ( supplied with new machine) and annual validation / service inspection or as per statutory requirements.
Where can I purchase one.....................From your normal NSK distributors
How much should it set me back...........We think no more than £2400.00 or less (+ vat)You can follow our link to the NSK brochure or link to NSK decontamination below.
Malcolm